The trend of today's Barbershop has changed and no longer caters to just men. Both men and women take pride in how they look. They want to portray their unique identity through their appearance, and Barbershops are a hip place for men and women to get modern, trendy cuts and shaves. Answering the call for barbershop owners, Hello Gorgeous Barber School has a program that will launch you into this exciting field.
The school does not discriminate in its employment, admission, instruction, or graduation policies based on sex, age, race, color, religion, or ethnic origin nor does it recruit students already attending or admitted to another school offering similar programs of study.
Hello Gorgeous Barber School is dedicated to providing the highest quality education and experience to students, giving them an opportunity to pursue a career in the Art and Science of Barbering.
Hello Gorgeous Barber School is proud to be accredited by the National Accrediting Commission of Career Arts and Sciences.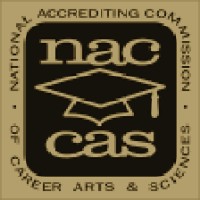 Hello Gorgeous Barber School participates in the federal Financial Aid Program. Financial Aid is available to all that qualify.